Kinex Risk System is a NON-Repaint MT4 FX Indicator system that gives easy-to-use buy/sell signals. It usually being sold for 67$ a Life Time. It comes with an ON-SCREEN dashboard with helpful information like ATR, daily high-low, spread, and swap.
The system consists of 2 components: the FXTRADER Arrow and the FXTRADER Dash trend indicator. This system has been designed from the ground up with novice traders in mind, but the system also tailors to experienced traders.
FX TRADER Indicator is a unique combination of the latest and most advanced technologies with the simplicity of use. It will make your analysis much more precise and your trades more accurate.
Thanks to the smart trend analysis calculation mechanism, you will recognize the trending market and you will be able to open transactions in line with the big traders. It will also tell you when to take a break from trading (flat market) on particular instruments.
It catches very fast and profitable price movements and gives you easy BUY/ SELL signals. The system very carefully verifies every trading signal to produce only the highest probability trades.
MT4 FX TRADER Indicator system can give you trading signals you can take as they are or add your additional chart analysis to filter the signals further, which is recommended. While traders of all experience levels can use this system, it can be beneficial to practice trading on an MT4 demo account until you become consistent and confident enough to go live.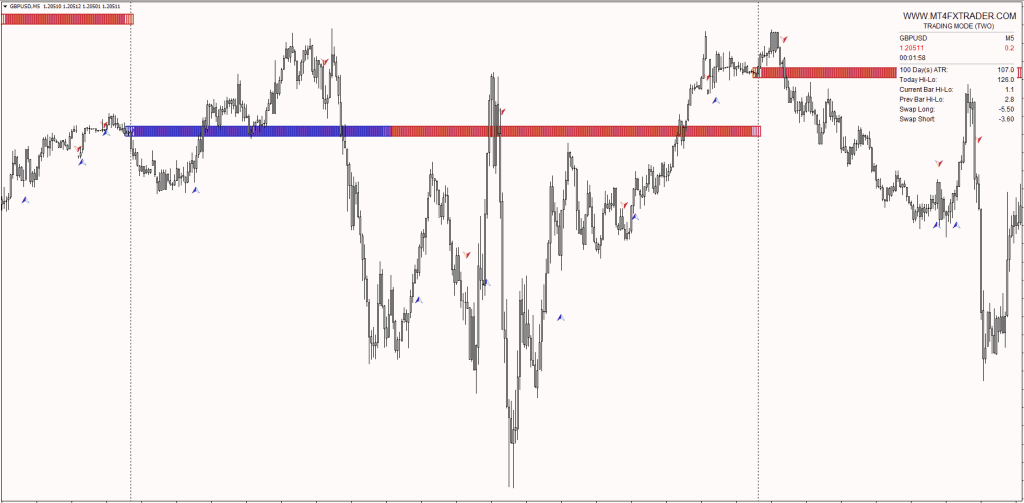 Follow money management & Don't enter to trade within the high-impact news period. Exit from your trades before half & an hour from the high-impact forex news.


You can set the FXTRADER Indicator System to send you a signal alert via Email, Mobile Notification, or platform pop-ups. This is helpful as it means you do not need to stare at the charts all day waiting for signals to appear, and you can monitor multiple charts all at once.
FX Indicator can be used on any Forex currency pair and other assets such as stocks, commodities, cryptos, binary options, precious metals, oil, gas, etc. You can also use it on any time frame that suits you best, from the 1-minute through to the 15-minute charts.
3 different templates provided by the Kinex Risk Indicator system are for different risk levels.
FXTR1 – FAST (Aggressive mode) – It's characterized by faster signals and the most significant potential profit with increased risk. If you are familiar with scalping and catching the quick market day trading movements, you should choose this trading method.
FXTR2 – NORMAL (Standard mode) – It's the most universal mode, providing the most balanced signals. It gives stable signals with limited risk. This mode is recommended for beginners as well s experienced traders.
FXTR3 – Slow (Safe mode)– This template provides the most conservative entries. If you perfect higher timeframes trading, you don't have much time for watching the charts, and you will love this trading model.
How to Use Kinex Risk MT4 FX Indicator
A

Blue

arrow represents a buy signal.
A

Pink

arrow represents a sell signal.
It does not require detailed analysis: use arrows and two colored bar indicator as entry signals. The Blue Arrow and the Blue color on the bar should indicate the BUY Signal. If the Red Arrow and the Red color on the bar show a SELL Signal.
Exit position
You can take profit from your order at the opposite signal or use the risk-to-reward ratios.
On the last swing, high for Sell trades.
On the last swing, low for Buy trades.
Close to important support/resistance area.
Or exit on the opposite signal.