TREXPER INDICATOR is a Non-Repaint trading system usually being sold for 180$. This free forex indicator work based on Donchian channel indicator. It is formed by taking the highest high and the lowest low of the last n periods. The area between the high and the low is the channel for the period chosen in conjunction with another powerful indicator named 'Moving Average Ribbon' which is a 18 different moving averages of different lengths plotted at the same time on a chart.
The Donchian channel and the ribbon indicate the market trend direction. When the current price is above the channel or ribbon it should clearly indicate a bullish trend or buyers getting optimistic and the bulls dominating against bears and when the price is lower the channel or ribbon it should indicate a bearish trend or sellers/bears dominating against bulls.


This ribbon and channel both acts also as dynamic resistance and support depending on where the current price is floating. Price floating above the channel and ribbon will act as a support level and when price floating below the channel shall act as resistance and price will feel difficulties to break above the channel and ribbon.
It came along with small lines drawn on high or low of a price bar which pinpoints the highest high or lowest low of the price for that certain financial instrument.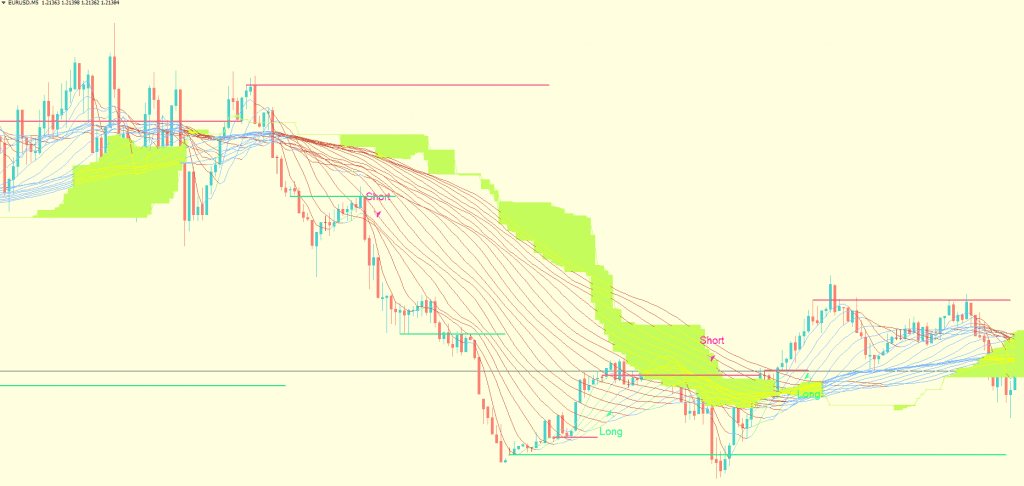 FOREX TREXPER system can give you trading signals you can take as they are or add your additional chart analysis to filter the signals further, which is recommended. While traders of all experience levels can use this system, it can be beneficial to practice trading on an MT4 demo account until you become consistent and confident enough to go live.
Features
You can set the FOREX TREXPER INDICATOR to send you a signal alert via email, Mobile Notification, or platform pop-ups. This is helpful as it means you do not need to stare at the charts all day waiting for signals to appear, and you can monitor multiple charts all at once.


FOREX TREXPER Indicator System can be used on any Forex currency pair and other assets such as stocks, commodities, cryptos, precious metals, oil, gas, etc. You can also use it on any time frame that suits you best, from the 1 minute through to the 1-month charts.