The demark forex trading strategy is a price action trading system with a reasonable risk: reward (R: R) ratio if a trade works out as anticipated.
The creator of this trading system is a guy called Tom Demark.
The demark system is a trendline breakout trading strategy but with a slight variation:
the most recent highs (peaks) and lows (troughs) are used to draw the trendlines.
Timeframes: any can be used, but I suggest you use a 15-minute timeframe and above.
Currency Pair: You can use this trading system to trade any currency pair.
Forex Indicator: none required.
Anything else?: You should know how to draw trendlines.

Demark Forex Trading Strategy Rules
Find two most recent highs or lows and draw a trendline.
Wait for the chart breakout of the trendline to happen. A breakout happens when a candlestick closes above/below a trendline and that candlestick that does that is called a breakout candlestick.
If the lower trendline is broken, place a pending sell stop order two pips below the low of that breakout candlestick. Or, if the top trendline is broken, place a pending buy stop order two pips above the high of the breakout candlestick.
Stop-loss should be placed 5-10 pips below/above the low/high of the breakout candlesticks or just a few pips outside of the most recent low/high for sell and buy trades, respectively.
You may use the risk: reward ratio of 1:3 to calculate the profit target or use a previous swing high and swing low for buy and sell trade.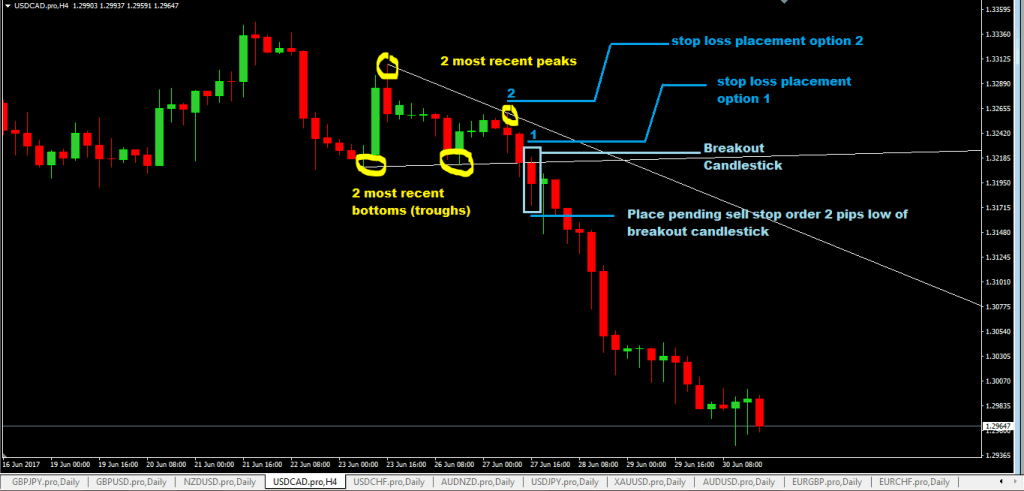 Advantages Of The Demark Forex Trading Strategy
Good potential to catch the start of a new trend and ride it.
This forex trading system also allows you to hop into a trend that has been progressing for a while.
reasonable risk: reward ratio
Disadvantages Of The Demark Forex Trading Strategy
The breakout candlestick sometimes can be very long, making your stop loss distance very large, so in such a case, the best other option is not to trade that setup.
This is not the forex holy grail trading system; false breakouts will happen.
Please click those social sharing buttons below if you've enjoyed learning about the demark forex trading system here. Thanks for visiting.
Read More: Daily Candlestick Breakout Forex Trading Strategy