The Simple trendline breakout forex trading strategy is a breakout trading system you can use when a price breaks a trendline.
In the trendline trading strategy, you want the price to obey the trendline to take a buy or sell trade. But in this trendline breakout trading strategy, the price has to break it.
So if you were waiting for a forex trendline trading setup to form but instead, you get a forex trendline breakout, then that's where you need to use the simple trendline breakout trading strategy.
What Timeframes To Use Simple Trendline Breakout Trading Strategy?
You can use any time frame, but I suggest using chart 1 hr timeframe and above.
What MT4 Currency Pairs To Use The Trendline Breakout Trading Strategy?
Any forex currency pair is suitable.
Any Other Forex Indicators Required?
No. You don't need any forex indicators to go with the simple trendline breakout strategy. What you need to know is how to draw a valid forex trendline and watch to see if the chart price breaks it or not.

Buy Trade Setup Example
You see the daily mt4 chart of EURGBP and the trendline breakout setup on the chart below.
Here are a few essential simple things to note:
Ensure there is a breakout candlestick before placing your pending buy stop order. You should not enter a trade "on the market."
So what is the breakout candlestick? A breakout candlestick is a candlestick that closes above the trendline (for a buy trade setup, as this mt4 chart below shows).
For take profit targets(TP), you can use the previous swing high or use risk to reward of 1:3.
To stop loss, place it under the low of the breakout candlestick.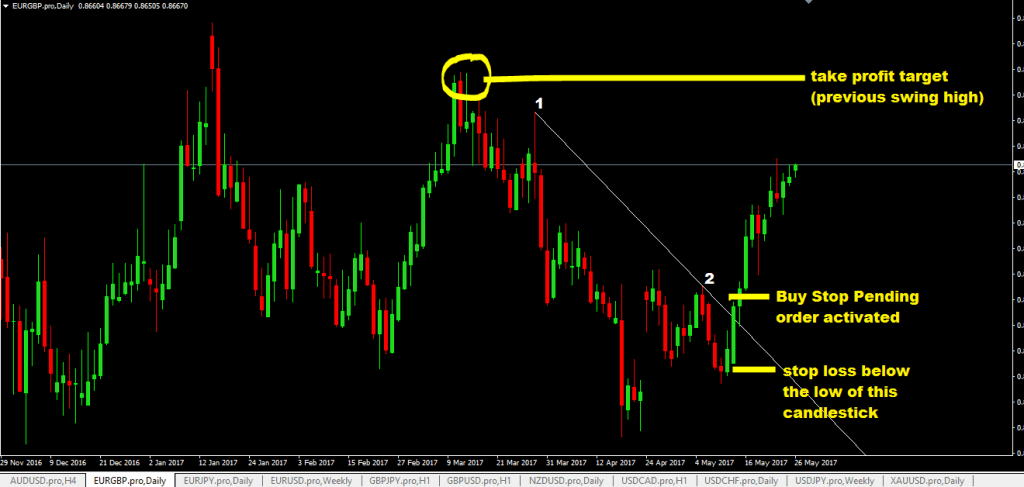 Sell Trade Setup Example
Here is an example of a sell trade setup on the GBPJPY 4HR chart. As mentioned before, there must be a chart breakout candlestick for you to take a sell trade.
In this case, the chart breakout candlestick is the candlestick that touches the trendline, breaks it, and closes below it. That is your signal to place your mt4 pending sell stop order.
So if the mt4 market decides to continue moving downwards on the following chart candlestick that forms, then your mt4 pending sell stop order will be activated.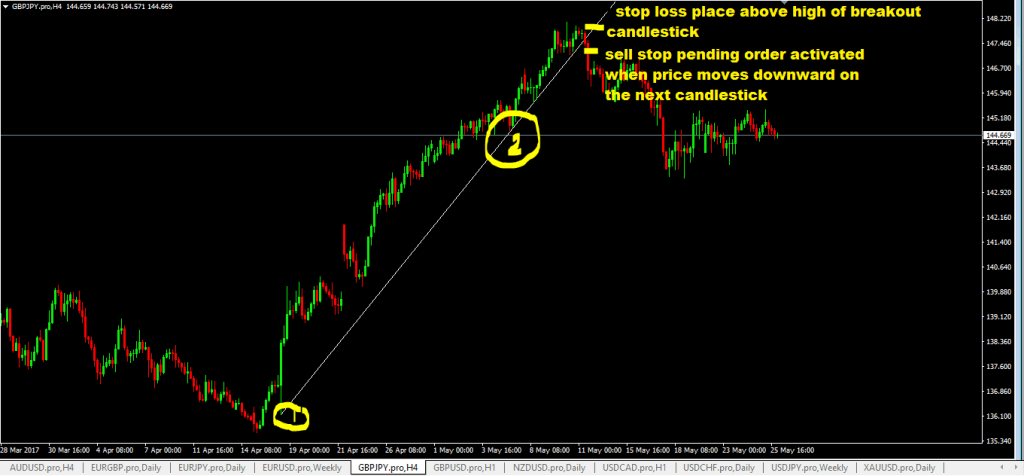 Advantages of the Simple Trendline Breakout Trading Strategy
Easy to add if you know how to draw good valid trendlines.
The Strategy has a significant risk to reward ratio.
Trendline breakouts indicate market trend change, and you can ride out this new trend, essentially, from the very start making lots of market pips along the way as the trend gains momentum.
Disadvantages of the Simple Trendline Breakout Trading Strategy
You will always have false chart trendline breakouts. That's just the market price behavior in forex trading, expect it.
Stop-loss distances can be huge when the chart breakout candlestick length is significant. In such instances, you need to decrease your trading lot sizes to manage your trading risk to a level where you are comfortable.
Read More: Profitable Breakout EA For FREE Download