The Simple diagonal price channel forex strategy is another price action forex trading system where the chart pattern you should be looking for is a diagonal channel pattern.
All you need is a simple good eye for picking peaks and bottoms and drawing two chart trendlines, the upper channel trendline and the bottom channel trendline.
There are two main types of forex diagonal price channel patterns:
the bearish diagonal price channel pattern. It forms when the market is on a downtrend
The bullish diagonal chart price channel pattern. This starts when the market is in an uptrend.
The chart below shows an example of a diagonal price channel that was forming in a chart downtrend until the channel pattern got broken, making it null and void: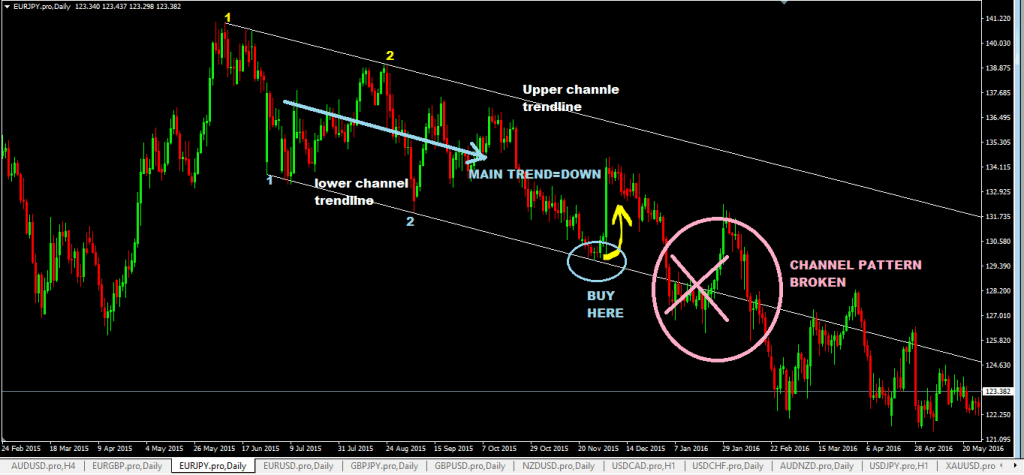 This chart below shows a forex diagonal chart pattern that was forming in an uptrend, and at the moment of this writing, that chart channel is still valid:

How Do You Draw A Forex Diagonal Price Channel?
Drawing a forex diagonal price channel is similar to drawing trendlines.
You need at least a minimum of 2 peaks to draw the upper channel trendline and a minimum of 2 chart lows to draw the lower chart channel trendline.
You want to see that those two chart trendlines you've drawn are almost parallel, but sometimes, a bit of angle on one of the chart trendlines is still ok.
Currency Pairs You Can Trade?
Any other currency pairs can be trading with the diagonal price channel forex strategy.
What Forex Timeframes Can You Trade In?
I suggest you use a 15-minute timeframe and upwards.
Any Other Forex Indicators Required?
Some forex traders will simplify things by adding a few more indicators here but don't do that. I suggest studying and knowing bullish and bearish reversal candlestick patterns for better trade entry signals.


Diagonal Price Channel Forex strategy Rules
Refer to this mt4 chart below showing a sell trade setup on mt4 1hr timeframe on FX USDCAD for the rules on trading diagonal price channels: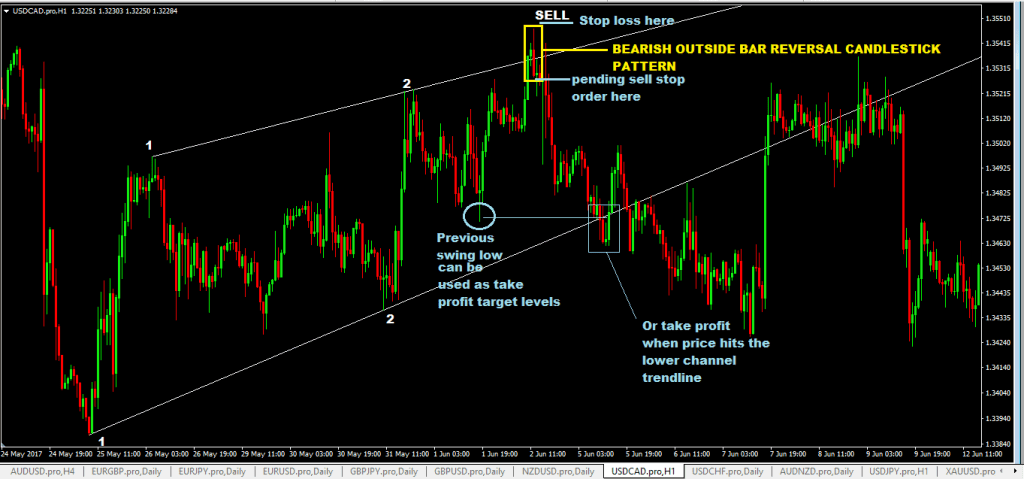 Where To Buy And Sell On The Forex Diagonal Price Channel?
Here's are the exciting things about the trading diagonal price channel:
Even if the chart trend is down, you can buy when the price touches the lower channel or, if the price touches the upper channel, you can also sell.
Similarly, if the trend is up, you can sell if the price touches the upper channel, and if it touches the lower chart channel trendline, you can buy.
Please refer to the two mt4 charts shown above.
Best Signal To Buy Or Sell On Forex Diagonal Price Channel Trendlines?
The best way to trade forex diagonal channels is to use bullish, and reversal candlestick chart patterns like pin bars, insider bars, bearish and bullish haramis, bearish or bullish railway track patterns, piercing lines, etc.
Where To Take Profits?
You'd like to take off profits(TP) when price hits the other channel trendline but guess what?
Things don't always happen that way, so you should be prepared to take profits when your risk: reward is 1:3 achieved or use the nearest chart swing high/swing low as your take profit(TP) target. Or you may decide to trail stop(SL) behind the following chart lower swing highs for a sell order and chart higher swing lows for a buy order as price moves in favor of your trade to ride out the market trend within the price channel.


Best Place To Place Your Stop Loss?
Just outside of the chart price channel, and how many pips away? It depends. If you use reversal chart candlesticks to enter your trades, then 5-20 pips may be adequate or increase the size a little more if you think that is too close to the current mt4 market price, and you may get stopped out early.
Advantages of The Forex Diagonal Price Channel Trading Strategy
one of the forex trading strategies with some excellent risk: reward ratio
potential for very tight stop loss(SL), which can also allow you to pyramid your way to good increased profits (adding more trades along the way)
The use of reversal candlesticks as signals to buy or sell enhances this forex system.
Disadvantages of The Forex Diagonal Price Channel Trading Strategy
New forex traders may find it hard to spot and draw channels initially, but it improves with more chart time and practice.
Diagonal price channels can get broken. They are not always fixed in concrete.
Read More: Trendline Trading Forex Strategy