The Forex News Trading Robot is an automated trading system designed to capitalize on the high-impact news events that lead to significant volatility in the currency markets. The underlying logic is rooted in a mean-reversion strategy that takes advantage of intraday seasonal volatility. Unlike other trading robots that may require a constant stream of trades to be effective, the Forex News Trader Robot is far more selective. It will only enter the market shortly before a high-impact news event is expected to occur, thereby maximizing the potential for high returns while minimizing risk exposure.
Auto News Trader EA employs algorithms to determine entry and exit points in the market. Unlike some systems, it does not incorporate martingale or grid tactics. Each trade is executed via market orders, with a predefined stop loss, safeguarding investments against unforeseen market volatilities.
Features of Forex News Trading Robot
One Chart Setup
The Forex News Trading Robot is designed for simplicity and efficiency. Traders do not need multiple charts for various currency pairs. Instead, a single chart setup is sufficient to trade all symbols, thus eliminating the clutter and providing a streamlined trading experience.
Multiple Currency Pairs Support
This trading robot supports multiple currency pairs, allowing traders to focus on the most favorable trading conditions across various currencies. This can increase diversification and potentially lead to more balanced and less risky portfolios.
Advanced News Filter
The News Trader Robot comes equipped with an Advanced News Filter. This ensures that it only triggers trades most likely influenced by high-impact news events. Moreover, this feature can be tested retrospectively in the Strategy Tester to determine its efficacy and optimize performance.
Auto GMT Detection
Another helpful feature of this trading robot is the Auto GMT detection, which automatically adjusts the trading time based on the Greenwich Mean Time (GMT), so that the robot enters the market at the ideal moment regardless of your local time zone.
Please test in a demo account first for at least a week. Also, please familiarize yourself and understand how this News Trading EA works, then only use it in a real account.

Recommendations for Auto News Trader
Minimum account balance of 100$.
This EA is one chart setup, so it's only needed to attach on one pair. It will trade on all pairs described on the input parameter.
EURUSD is recommended, and If your broker uses a suffix (e.g. EURUSD.a), you should update names in the Symbol parameter.
Work Best on GBPUSD, EURUSD, and EURGBP (Work on any currency pair)
Work Only on M5.
MT4 cannot perform multi-currency backtests, So when you backtest this EA, you only get the result of the only pair you tested.
This Auto News Trader EA should work on VPS continuously to reach stable results. So we recommend running this MT4 EA Download on a reliable VPS (Reliable and Trusted FOREX VPS – FXVM)
Low Spread, Slippage, and quick execution account is Recommended (Find the Perfect Broker For You Here)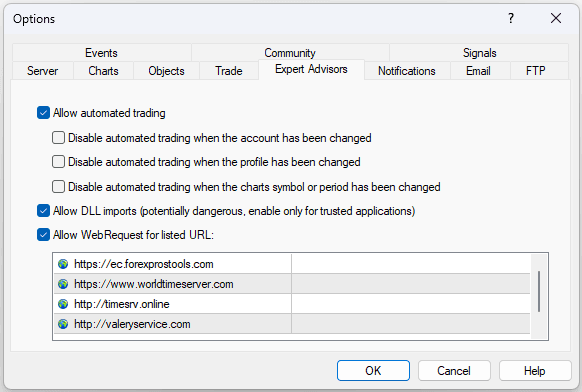 Open Tools –> Options –> Expert Advisors. Check the option "Allow WebRequests for listed URL" Add the following: "https://ec.forexprostools.com", "https://www.worldtimeserver.com", "http: //timesrv.online", "http://valerytools.com" and press "OK." The EA takes news from the specified websites.
Backtesting the EA
To backtest the Auto News Trader Robot, traders must copy a specific file named 'NewsEvents.txt' to the MT4 directory. Here is how you can do it:
Navigate to C:\Users\[UserName]\AppData\Roaming\MetaQuotes\Terminal\Common\Files
Copy the 'NewsEvents.txt' file .
Once the 'NewsEvents.txt' file is in place, traders can proceed to backtest the Expert Advisor to understand its performance metrics and make any necessary adjustments.
Input Parameters

Allow Opening a new Trade – on/off opening new trades.
Lot-sizing Method – Select the lot sizing method according to the risk you want to take: Fixed Lots will use fixed lot size from the "Fixed lot" parameter, Dynamic Lots will use the Dynamic Lot parameter, Max Risk per Trade will calculate lots based on % risk per trade, 3 predefined presets will calculate risk automatically for you
Fixed Lot – fixed trading lot
Dynamic Lot – balance/equity to be used per 0.01 lot
Maximum Lot – max allowed a trading lot
Maximum Spread, in pips – max allowed spread for position closing
Maximum Slippage for a non- ECN acc, in pips – max allowed slippage
Maximum Symbols at a time – max allowed the number of symbols that can be opened simultaneously.
Maximum Net Number of Currencies – max allowed number of open trades with the same currencies (not symbols/currency pairs) in the same direction
Allow to Buy/Sell – on/off Buy/Sell trades.
Allow Hedging – allow opening multi-directional trades on the same symbol.
Minimum Free Margin % – If Free Margin% falls below the specified value, the EA will not place new pending orders and will cancel already placed ones
Max Floating Drawdown % (in Money) – if the current floating drawdown exceeds the specified % (value), the EA will close open positions
Max Drawdown Action – allows specifying actions to be taken after the max. Drawdown is reached (in money or %)

Symbols separated by comma – list of pairs to trade. A suffix needs to be included if your broker uses one!
PCh Period – period of the price channel (PCh)
PCh Offset – offset for the PCh levels
ATR Period – period of the daily ATR indicator
Position Time Stop – max position holding time in M5 bars
Hour to Stop Trading on Friday – hour to stop trading on Friday. All open positions will be closed at this hour.
New Year Holiday Filter – on/off Christmas/New Year filter
TakeProfit / StopLoss, %ATR – volatility-based take profit / stop loss in %ATR
Hide StopLoss – on/off SL hiding
News Filter Enabled – on/off News Filter
Minutes Before/After Event – Allow trading before/after the high-impact event.

Trade Comment – comment
UID (0…9) – unique EA instance number. Usually, no need to change it
ShowPanel – on/off Info-panel
Disable Automatic GMT Detection – Set it to 'true' to disable automatic GMT detection. You can use the GMT Test/Manual' and 'DST Test/Manual parameters to set the GMT manually offset in live trading.
GMT/DST Test/Manual – GMT offset in winter and DST


Conclusion of News Trader Robot
The Forex News Trading Robot specializes in trading high-impact news events. With features like a one-chart setup, multi-currency support, an advanced news filter, and Auto GMT detection, it provides traders a robust and efficient tool for maximizing their profits during high volatility. Always remember to backtest and continually update your strategies to ensure you are getting the most out of your automated trading experience.