Gold Scalping Forex Robot is a fully automated forex Expert advisor that is specifically designed to trades GOLD(Work on other pairs too), usually being sold for 30$.
The operation is based on opening orders using another indicator, thus the EA works according to the "Trend Follow" strategy, which means following the trend
Gold Scalping Forex EA has been back-tested with 99.9% real tick data. The majority of the inner parameters are hidden from the user so that even a beginner will not make mistakes.
Please test in a demo account first for at least a week. Also, Make yourself familiar and understand how this Gold Scalping Forex EA works, then only use it in a real account.


Recommendations
Minimum balance of 100$ stranded account.
Work best on XAUUSD[GOLD] (Work on any pair, Work good with GBPUSD too).
Work best on M1 or H1 (Work on any time frame).
Good settings aren't given for this EA, you may need experiment and find good settings.
VPS with the minimum latency to the broker's server is

Highly Recommended

for trading. (We recommend FXVM.net VPS)
Low Spread ECN account is also Highly recommended for Gold Scalping Forex Robot. (Find the Perfect Broker For You Here)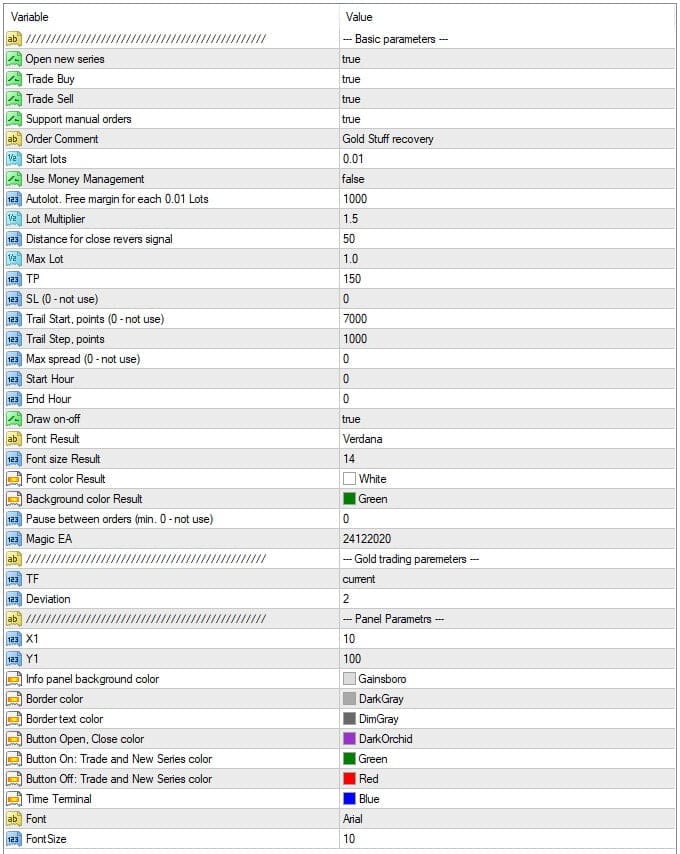 Open new series => on / off beginning of a new series of orders.
Start lots => start lot.
Trade Buy => allow the adviser to buy.
Trade Sell => allow the adviser to sell.
Use hedge => allow the adviser to trade both direction buy and sell. If off only one trade direction.
Use Money Management => on / off use of automatic lot calculation.
Autolot. Free margin for each 0.01 lot => the amount of free margin for opening every 0.01 lots.
Lot miltiplier => lot multiplier for the following orders.
TP => take profit, in pips.
SL => stop loss, in pips from the first order.
Trail Start => activation of a trailing stop.
Trail Step => distance from the price when activating a trailing stop.
DD Reduction Algoritm => drawdown reduction algorithm it when last order with profit will be close with first order series with loss.
Number order for DD Reduction Algoritm => from which order the drawdown reduction algorithm is activated.
Percent profit for DD Reduction Algoritm => percentage of profit when closing orders in the drawdown reduction mode.
Magic => is a special number that the EA assigns to its orders.
Fix distance => fixed distance between orders
Order dinamic distance => from which order will the dynamic distance be applied in order.
Dinamic distance start => the starting value for the dynamic distance.
Distance multiplier => the dynamic distance multiplier.
Start, End hour => time for opening the first order.
Maximum Lot => maximum lot.
Maximum spread => the maximum spread for the adviser.


Get Gold Scalping Forex Robot HERE