Pac Man EA is a FREE MT4 EA with a live track record, many years of stable trading, and a low drawdown. MT4 EA Download is the advanced grid system which already worked on real accounts for years. Instead of fitting the system to reflect historical data (like most people do), it was designed to exploit existing market inefficiencies. Therefore it is not a simple "hit and miss" system that only survives by using a grid. Instead, it uses actual market mechanics to its advantage to make a profit.
Because of this method, this EA has a very high ROI(Return on investment) with relatively good stability. According to the developers, this automated trading system can perform miracles. Many Traders scare away from Martingale, as this principle is perceived as the basis of the trading system. But from our testing, this Pac Man EA works well with good safe stability.
This EA One Chart Setup allows you to trade on multiple pairs just by attaching it to a single chart. On Default, it trades on AUDNZD, AUDCAD, and NZDCAD pairs which you can change using input parameters.
Please test in a demo account first for at least a week. Also, please Make yourself familiar and understand how this FREE MT4 Robot works, then only use it in a real account.

Recommendations for this FREE MT4 EA
Minimum Account Balance of 300$ in 1:500 leverage or 1000$ in 1:100 Leverage.
AUDCAD is recommended, and If your broker uses a suffix (e.g. AUDCAD.a), you should update names in the Symbol parameter.
This EA is one chart setup, so it's only needed to attach on one pair. It will trade on all pairs described on the input parameter.
Work Only on M15.
MT4 cannot perform multi-currency backtests, So when you backtest this EA, you only get the result of the only pair you tested.
This FREE MT4 EA should work on VPS continuously to reach stable results. So we recommend running this MT4 EA Download on a reliable VPS (Reliable and Trusted FOREX VPS – FXVM)
The EA is NOT sensitive to spread and slippage. But We advise using a good ECN broker (Find the Perfect Broker For You Here)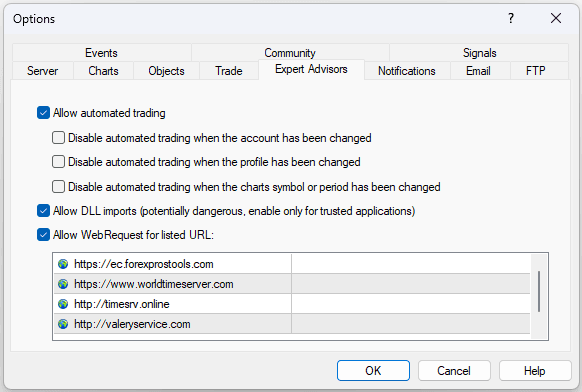 Open Tools –> Options –> Expert Advisors. Check the option "Allow WebRequests for listed URL" Add the following: "https://ec.forexprostools.com", "https://www.worldtimeserver.com", "http://timesrv.online", "http://valeryservice.com" and press "OK." The EA takes news from the specified websites.
Input Parameters

MM & Risk settings

Allow Opening a new Grid – on/off the opening of new grids. It does not affect the already open grids.
Lot-sizing Method- select the lot sizing method according to the risk you want to take:

Fixed Lots will use fixed lot size from the "Fixed lot" parameter
Dynamic Lots will use the 'Dynamic Lot' parameter
Deposit load will calculate lots based on deposit load%,
The other four predefined presets will calculate risk automatically for you.

Fixed Lot- a fixed trading lot for the initial trade.
Dynamic Lot (Balance/Equity based)- balance/equity to be used per 0.01 lot
Deposit Load % – % of the deposit that will be totally used to open the initial trade
Maximum Lot- max allowed a trading lot
Auto Split – this option allows the EA to trade with any lot size/volume without limits. Most brokers have a limit of 100 lots per order, so if the option is enabled, the EA will automatically split a large trading volume (e.g. 10000 lots) into multiple smaller orders (not more than 100 lots per child order). It is intended to be used in the tester to allow testing of the EA on all the available history.
Maximum Spread, in pips- maximal allowed the spread
Maximum Slippage for a non-ECN acc, in pips – max allowed slippage
Maximum Symbols at a time – max allowed number of symbols that can be opened at the same time
Allow Hedging – allow opening multi-directional trades on the same symbol
Allow Trading on Holidays – on/off Christmas/New Year trading filter
Allow to Buy/Sell- on/off Buy/Sell trades
Minimum Free Margin % – if Free Margin% falls below the specified value, the EA will not place new pending orders and will cancel already placed ones.
Grid Level to Start – allows you to skip a certain number of grid levels. Trading will start from the specified level. To calculate entries correctly, the EA opens "marker" orders at skipped levels with a minimum lot size.
Maximum Drawdown Percent- if the current floating drawdown exceeds the specified %, the EA will close open positions.
Max Drawdown Action – which allows specifying actions to be taken after the max. Drawdown is reached (in money or %):

Close trades & stop trading for 24h – the EA will close all open trades/grids and will not open new ones for 24 hours;
Close trades & stop trading until restart – the MT4 EA Download will close all open trades/grids and will not open new ones until the EA/MT restarts;
Prohibit opening new trades – new grids will be prohibited as long as the floating drawdown is above a specified value;
Prohibit opening new trades until restart – new grids will be prohibited until the EA/MT restarts.

Max Drawdown Calculation – allowing specify how the maximum drawdown is calculated:

The account – takes into account all positions opened on the account, including trades opened manually or by other EAs;
This strategy – takes into account only positions opened by this EA.

Time settings

HourToStartTrading – hour to start trading
HourToStopTrading – hour to stop trading
Minutes to Start Trading – minutes to start trading (for initial orders only).
Minutes to Stop Trading – minutes to stop trading (for initial orders only).
Rollover Start Hour – rollover start hour.
Rollover Start Minutes – rollover start minutes.
Rollover End Hour – rollover end hour.
Rollover End Minutes – rollover end minutes.
Send Orders During Rollover Time – enable/disable sending orders (including grid trades) during rollover time.
Remove TakeProfit During Rollover – removes TP for all orders at the specified rollover time – this option helps to avoid closing trades via TP during bad trading conditions since slippage can turn a profitable trade into a losing one.

Hide TakeProfit – allows you to hide take profit.
Use OPO method to handle TP – If enabled, the EA will use a virtual TP handled only when a new bar opens. It sometimes allows the MT4 EA Download to catch more profit from a trade.
TF for OPO method – timeframe for the 'Use OPO method to handle TP' feature: the EA will close trades using open prices only on the TF of your choosing
Smart TakeProfit – If enabled, the TP will be based on the current volatility, with the first two trades having different TP levels. It increases EA results in testers due to more trades being opened.
Break Even after this Level – break even feature after the specified Grid level is reached.
TakeProfit for Grid – now it allows any value, including zero and negative. The weighted TP can be set with a separate 'Weighted TakeProfit' option.
Do not adjust TP unless new grid level opened – if true, the EA will adjust the TP of open positions only when a new grid level is opened. The user can manually set their own TP, which will stay current until the FREE MT4 EA opens a new grid level.
Fixed Initial Deposit (Tester only) – lot size will be calculated based on the initial deposit. New profits will not be taken into account.
Keep Original Profit Level & Lot Size – when skipping the grid level, the EA will keep the profit target from the original (standard) strategy. It helps boost performance. The EA still needs 'marker orders'. A feature that allows skipping levels without such orders will be added later.
Allow sending SL & TP along with an order (for a non-ECN acc.) – if true, then the EA will send SL & TP along with orders. If false, then SL & TP will be set after the order is sent and executed.
Randomize TP/SL Levels – if enabled, the EA will randomly slightly change the TP/SL levels. This option allows you to have a unique TP/SL.
Max Random Delay before sending Orders, sec [0-disabled] – maximum random delay in seconds before sending an order. Values over 15 seconds are not recommended.
Check Margin for all Grid Levels – if true, the EA will check if there is enough free margin to open all grid levels at the same time. If not enough, the initial lot size will be reduced.
Check Bars for Errors – if true, the Pac Man EA will check the relevance of historical data and bar opening time. Turn it off if your broker uses non-standard bar opening time (for example, hh:02, hh:17, hh:32, hh:47).

Disable Automatic GMT Detection – set it to true to disable automatic GMT detection. You can use the GMT Test/Manual and DST Test/Manual parameters to set the GMT manually offset in live trading.
GMT(DST) Test/Manual – GMT offset in winter and DST in Tester.
News Filter Enabled – on/off News Filter.
Wait Minutes Before/After Event – suspend trading before/after the news.
Disable Trading on Holidays – enable/disable trading on bank holidays according to the real-time Economic Calendar (https://www.investing.com). This filter is currency-specific. For example, with it, EA won't take trades on USD pairs during bank holidays in the USA. It also works in Strategy Tester.
Medium Impact News – enable/disable news events with medium impact (2 stars news).
Low Impact News – enable/disable news events with low impact (1-star news).
Speaks – if false, then the Pac Man EA will not take into account news events marked as Speeches/Speaks.
News List Refresh Rate – news events list update frequency (selection from the drop-down list).
Show News List – displays a list of upcoming news events to the right of the info panel.
Disable Built-in News Filter Settings – Disable the built-in news filter settings, allowing you to fine-tune the news filter.
Custom Events (separated by a comma, disabled if empty) – custom rules allowing you to fine-tune the news filter.
Stock Market Crash Filter Enabled – enable/disable the stock market crash filter.
Stock Market Symbol – symbol name of the S&P500 stock index of your broker. It is usually called something like US500 or SPX500 (press Ctrl+U to see all symbols).
Filter Period – period of the stock market crash filter.
Max Historical Volatility (HV) – max. annualized standard deviation of H1 returns (HV in %).
Block Trading for the Entire Day – prohibits opening new trades throughout the day if HV hits the specified level just once at any moment during the day.
Check for Instances of the EA – checks that only one instance of the EA is running at a time. If EA detects other instances with the same UID, trading will be disabled.
Symbol Suffix – here, you can specify a symbol suffix if your broker uses one.
Max Open Lots (Filter) – the EA will not send new initial orders if the volume of all positions opened by the FREE MT4 EA exceeds the specified value.
Max Daily Drawdown Limit % FTMO Rules – maximum daily drawdown limit, calculated according to the FTMO rules. Non-trading operations (like withdrawals) during the day are not taken into account.
Max Daily Drawdown Limit in Money FTMO Rules [0-disabled] – maximum daily drawdown limit in MONEY, calculated according to the FTMO rules. Non-trading operations (like withdrawals) during the day are not taken into account.
Max Daily Drawdown Reset Hour FTMO Rules (Broker time) – hour to reset the max. Drawdown with the prop firm.
Handle Max Drawdown Events on Every Tick – enable/disable drawdown event handling on every tick (instead of once a minute which is used by default, it may consume more CPU resources).
Allow Manual Trading Buttons – enable/disable manual trading buttons that allow you to manually open an initial trade – the Pac Man EA will pick up the manually opened trade and manage it as usual. The buttons are affected by the following parameters – Symbols, Maximum Spread, and Maximum Symbols at a time.
Rounding Method – allows you to choose the method of rounding fractional lots to calculate trading lot sizes.
Custom Symbol Multipliers separated by comma – here you can set multipliers to calculate trading lots for each pair, for example, 1.0,0.7,0.9. This means that the first pair (specified in the 'Symbols separated by comma' parameter) will be open normally, but the second and third will have smaller lots, multipliers 0.7x and 0.9x.
Working TF for BB and RSI – allows you to set working TF for BB and RSI indicators.
Percentage Pips Mode – enable/disable percentage pips mode – 1 percentage pip = 0.0001 – Current Price.
Custom Multipliers sep. by comma – custom multipliers for each GRID step separated by a comma, for example – 1,2,4,8,12,18,27,41 – this parameter has a higher priority.
Trailing SL Size, in pips [0-disabled] – trailing stop in pips based on the grid breakeven point (=weighted average entry price of all orders including SWAPs and commissions).
Trailing SL Start, in pips – number of pips in profit at which the trailing SL is activated.

Strategy

Symbols- symbols separated by a comma (custom if empty)
Bollinger Bands Period- period of BB used to calculate the upper/lower levels
RSI Period- period of RSI used to filter out trades with small potential.
Maximum RSI Value – value for the RSI filter
TakeProfit for Initial Trade, in pips- take profit for the initial trade (if no grid trades opened)
TakeProfit for Grid, in pips(weighted if zero) – take-profit for the grid. If zero, then TP is weighted, i.e., it is equal to TP of the initial order in money (not in pips!)
StopLoss for Grid, in pips(1000 pips if zero) – stop-loss for the initial/grid trades
Hide StopLoss – on/off stop-loss hiding

Grid settings

Trade Distance – min. step in pips between grid(averaging) trades
Smart Distance – auto adjusts the trade distance depending on market volatility
2nd Trade Multiplier- multiplier for the 2nd trade
3rd-5th Trade Multiplier- multiplier for the 3rd-5th trades
6th- Trade Multiplier- multiplier for the 6th-…. trades
Maximum Trades- max number of grid(averaging) trades
Grid Level to Start – allows you to skip a certain number of grid levels. Trading will start from the specified level. To calculate entries correctly, the EA opens "marker" orders at skipped levels with a minimum lot size.

Others

Trade Comment- comment for orders
UID (0…9)- unique EA instance number. Usually, no need to change it
ShowPanel – on/off Info-panel
MT4 EA Download HERE

Updated 2023/08/11