Forex Rebellion 3 Indicator System is a NON-Repaint Trading System for MT4 that gives easy-to-use buy/sell signals. It was created by forex trader John Kincade, who was also responsible for developing several other trading systems.
The system is based on the principles of technical analysis, fundamental analysis, trend following, and several other strategies unique to Forex trading. The system is designed to be simple to use so that even beginners can easily understand it.
It catches profitable price movements and gives you accessible BUY/ SELL signals. The system carefully verifies every trading signal to produce only the highest probability trades.
The timeframe is M30 or higher, But the best time frame is H4, in which the system expresses all its potential for trading by generating clear and precise signals that mitigate stress. Even when it goes into loss, the system manages to recover the losses having good profitability.
Forex Rebellion V3 can give you trading signals you can take as they are or add your additional chart analysis to filter the signals further, which is recommended. While traders of all experience levels can use this system, it can be beneficial to practice trading on an MT4 demo account until you become consistent and confident enough to go live.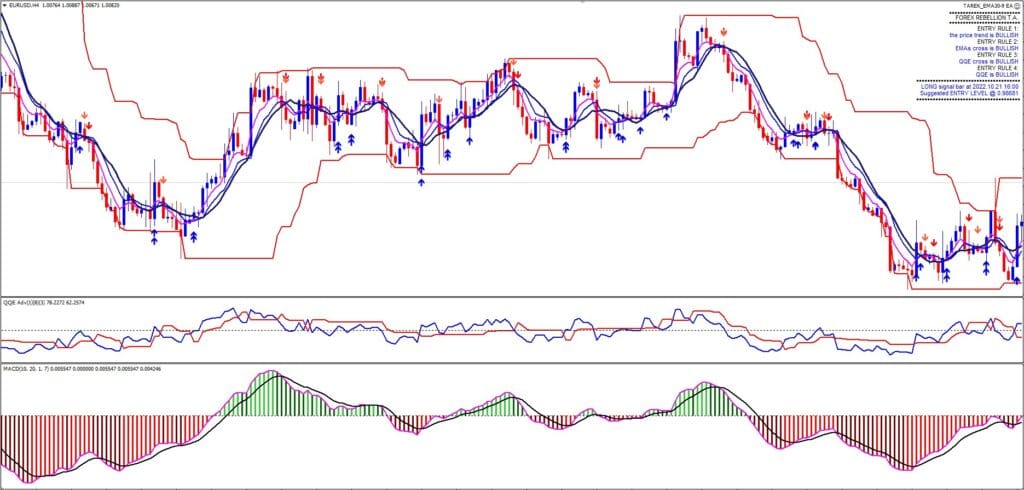 You can set the Forex Rebellion Version 3 to send you a signal alert via Mobile Notification, platform pop-ups, and Email. This is helpful as it means you do not need to stare at the charts all day, waiting for signals to appear, and you can monitor multiple charts simultaneously.
Forex Rebellion Indicator System can be used on any Forex currency pair and other assets such as stocks, commodities, cryptos, precious metals, oil, gas, etc. You can also use it on any time frame that suits you best, But its works best on higher time frames from M30 to D1.
Indicators of This Trading System for MT4
Donchian channel with ChannelPeriod 21

EMA-Crossover indicator with periods 4/5 (which draws the arrows)
2 moving averages signal.
MACD with EMA
The QQE ADV indicator
Expert Tarek, this EA helps to manage positions.


Forex Rebellion Indicators Explained
The EMA Crossover
The EMA Crossover indicates the direction of the short-term trend.
This indicator is made up of faster 4 EMA and slower 5 EMA. When they cross, an arrow is shown on the chart. The actual EMA's are not shown, strictly to keep the charts free of too much clutter. The arrows are unmistakable, and this works very well.
The QQE Adv
The QQE Adv is short for the Quantitative Qualitative Estimator Advanced.
This indicator is an advanced modification of the QQE, hence the QQE Adv. This powerful indicator has the ability to eliminate, or filter out, a lot of bad trades.
This indicator is fairly simple to use but does need some explanation. The QQE is essentially a smoothed RSI indicator with a signal line. The signal line is a smoothing average known as Wilder's Period. Together the two lines work like that of a Stochastic Oscillator or a 2-line MACD. The lines have to be in the right order for a trade signal to be valid. A line is drawn through the middle of the indicator window, which is called the 50 lines.
Tarek EMA EA
This EA helps to manage positions. It shows the entry rules. If the four rules are in the same direction, that's an excellent entry to take, and EA will send a notification too.