Power Fuse RSX Forex Trading System is a hybrid technical indicator, which is a combination of the Bollinger Bands and MACD indicator superimposed on each other and displayed in a separate window under the price chart. The Power Fuse indicator can be used on any timeframe and currency pair
The implementation of the MACD indicator in this Forex System is presented in the form of dots in blue, red, and yellow: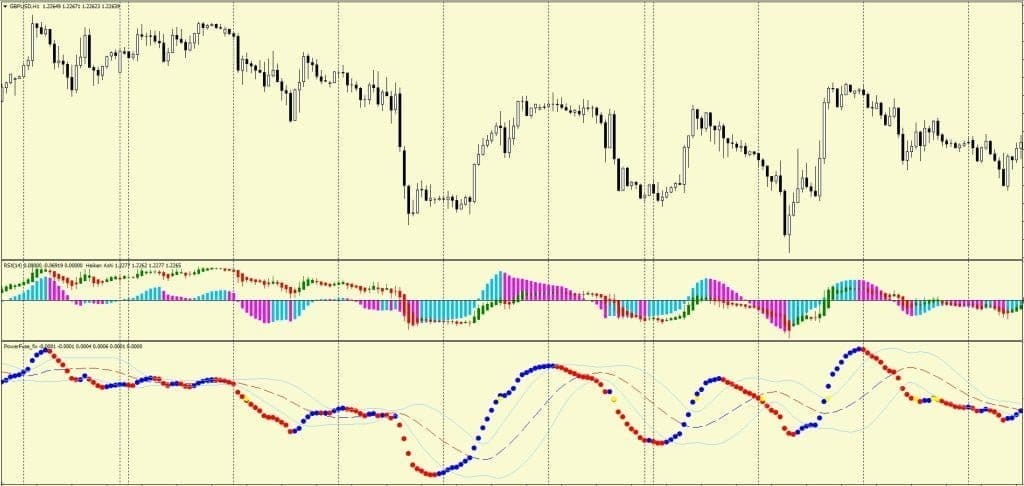 Blue

dots – record the upward tendency of the MACD

Red

Dots – record the downward tendency of the MACD

Yellow

Dots – Located at the zero value of the MACD, which is a kind of divider between the rising and falling trend

Light blue

lines – represent Bollinger bands

Red

and

Blue

dashed lines – project the current market mood according to the Bollinger bands

Thus, the line consisting of circles of different colors in the Power Fuse indicator is inherently no different from MACD, but it is much more convenient to examine its marking, since the standard version of the oscillator is painted in a solid color, as a result of which, signals are poorly visible on it.
This Forex Trading System can give you trading signals you can take as they are or add your additional chart analysis to filter the signals further, which is recommended. While traders of all experience levels can use this system, it can be beneficial to practice trading on an MT4 demo account until you become consistent and confident enough to go live.
Power Fuse Indicator Input Parameters


BandPeriod – this is the period of calculation of Bollinger bands;
Fast, Slow, and Smooth parameters are standard MACD settings.
 StdDevNumber – the number of standard deviations taken into account when building the BB channel;
Power Fuse RSX Indicator can be used on any Forex currency pair and other assets such as stocks, commodities, cryptos, precious metals, oil, gas, etc. You can also use it on any time frame that suits you best, from the 15-minutes through to the 4-Hour charts. It works best on H1 timeframes.


Download a Collection of Indicators, Courses, and EA for FREE
Power Fuse With RSX Trading rules
Buy
The RSX changes color from

Pink

to

Light Blue

.
Heiken Ashi changes color from

Red

to

Green

.
PowerFuse_fix changes the color of the dots from

Red

to Blue.
Sell
The RSX changes color from

Light Blue

to

Pink

.
Heiken Ashi changes color from Green to

Red

.
PowerFuse_fix changes the color of the dots from Blue to

Red

.
OR
For the Buy signal Yellow dot is Above the upper band of the Power Fuse indicator and Histogram Blue and for the Sell signal Yellow dot is Below the lower band of the Power Fuse indicator and Histogram Red.
Exit from the order when an opposing signal appears or use your own SL/TP and Exit positions. When making an order, to be considered a signal we recommend RSX histogram value should be BELOW/ABOVE ZERO.