FXCORE GOLD EA V12 is a fully automated Free forex EA. It employs a blend of popular technical indicators, including the Exponential Moving Average (EMA), Relative Strength Index (RSI), Commodity Channel Index (CCI), Stochastic Oscillator (Stoch), and the Moving Average Convergence Divergence (MACD). These indicators work synergistically to determine the optimal entry and exit points for trades, offering traders a degree of precision that would be challenging to achieve manually.
FXCORE Gold EA V12 distinguishes itself with its built-in news filter. Economic news significantly affects currency markets, with high-impact news events often causing significant market volatility. The tool's news filter automatically halts the EA's operations before and during such events, shielding traders from unexpected market swings and potential losses.
Furthermore, the EA employs a martingale strategy(Wich is risky). Traditionally used in betting, the martingale strategy doubles the trade size after a loss so that a win would recover the loss of the previous trade. This can be particularly effective in Forex trading, as currencies rarely drop to zero, unlike stocks. But that means you need big capital to hold trades when it goes into negative.
This Gold Robot incorporates hedging techniques to provide an additional layer of risk management. The tool helps offset potential losses if a trade doesn't go as planned by opening multiple inversely correlated positions. These combined risk management strategies equip traders with a solid safety net, boosting the likelihood of successful trading operations.
The FXCORE Gold EA V12 integration of various technical indicators, advanced news filters, and effective risk management strategies make it an intriguing option for traders seeking to enhance their Forex trading performance. However, as with all trading tools and strategies, it's essential to understand that while the EA can increase the likelihood of successful trades, it does not guarantee profits. Traders should always approach cautiously, use appropriate risk management, and never risk money they can't afford to lose.
Please test in a demo account first for at least a week. Also, please familiarize yourself with and understand how FXCORE GOLD EA works, then only use it in a real account.

Recommendations for FXCORE GOLD EA
Minimum account balance of 1000$
Work Best on XAUUSD(GOLD). (Work on any pair)
Work Best on H1 Timeframe (Work on any Timeframe)
The FXCORE GOLD Robot should work 24/7 on VPS to reach stable results. So we recommend running this free forex EA on a reliable VPS (Reliable and Trusted FOREX VPS – FXVM)
Low Spread ECN account is also recommended (Find the Perfect Broker For You Here)


Download a Collection of Indicators, Courses, and EA for FREE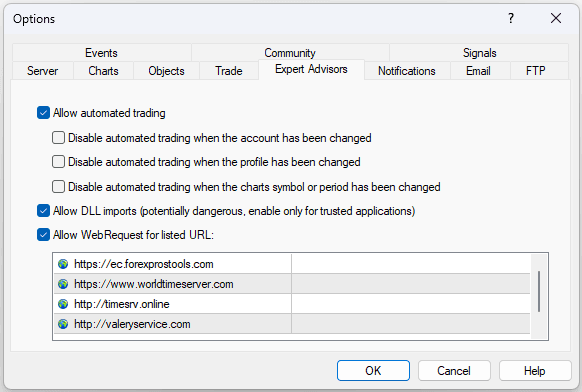 Open Tools –> Options –> Expert Advisors. Check the option "Allow WebRequests for listed URL" Add the following: "https://ec.forexprostools.com" and press "OK." The EA takes news from the specified websites.

Conclusion
In summary, the FXCORE Gold EA V12 is a revolutionary tool in the forex trading landscape. Its incorporation of established technical indicators, an automated news filter, and strategic trade management techniques offer traders a comprehensive and robust platform. However, the inherent risks associated with Forex trading, coupled with the use of the martingale strategy and hedging, mean that users should approach with a clear understanding of their personal risk tolerance and investment objectives.