Pegasus Pro is a fully automatic EA works based on the strategies called HFT (high-frequency trading) algorithm. So, yes, this EA is very sensitive for latency and spread. Pegasus Pro is capable of scalping every different situation that most traders are dreaming of catching. Let's just say this EA designed for the new generation of the market.
Pegasus Pro is a new expert with a new integrated indicator which, EA developers had designed for last year and been testing it for two years now. And it's designed for their VIP INVESTORS. Developers currently don't sell it.

EA Always use a stop-loss of 1.3pips and doesn't use a grid or martingale. If you have required very low latency and spread, it will have a low drawdown.
Recommendation
Work Best On EURNZD, NZDUSD, EURUSD, GBPUSD, GBPJPY, EURJPY, USDJPY but default settings are mainly optimized for USDCAD. check preset files for others (works with any currency pair)
Time Frame Doesn't matter
Very low latency highly recommended (5 – 15ms) We recommend fxvm.net VPS
Very Low Spread ECN account is also highly recommended
Find the Perfect Broker For This EA HERE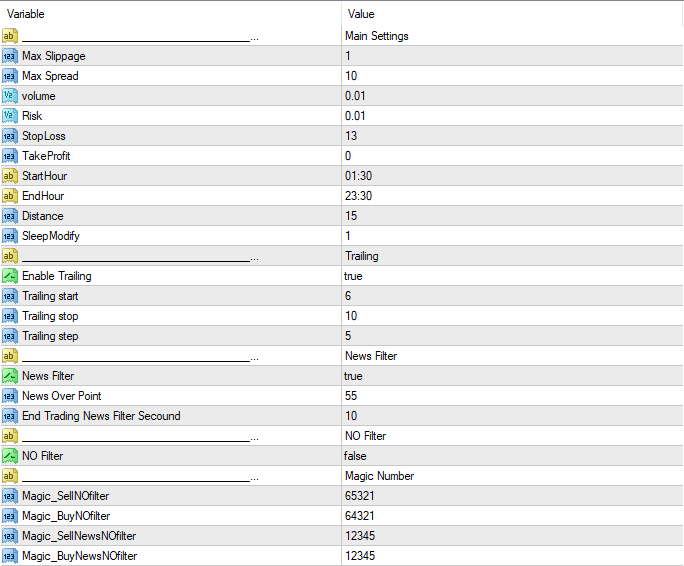 Main Settings

MAX slippage
MAX spread
volume
RISK
Stoploss
Take profit
Start trade time
End trade time
Distance
Sleep modify

TRAILING

Enable trailing
Trailing Start
Trailing stop
Trailing step

NEWS FILTER

NEWS FILTER
NEWS overpoint
End trading news second

NO FILTER
Magic number