This US30 Scalping EA is an automated MT4 Scalper EA specially designed to trade on US30/DOW. The US Wall Street 30 index, also known as the US30, is one of the most popular indices for traders looking to capitalize on the fast-paced financial market. This article will explore this specialized scalping robot's key features, benefits, and operational aspects.
This EA is custom-built to facilitate scalping trading on the US30 index. Scalping aims to profit from small price gaps generally created by order flows or spreads.
Unlike many other EAs, this MT4 Scalper does not resort to risky methods such as grid trading, martingale systems, or topping up. It trades using pending orders. Also, it incorporates a Stop Loss and Take Profit feature in every trade.
The EA is fully optimized and ready to work right out of the box. Traders need to add the US30 Scalper to the US30 M15 chart to initiate the trading process.
While the US30 Scalping EA is a robust tool, it is essential to note that scalping is inherently risky, and the EA can have drawdown periods of up to 30% when using a high Profit/Risk ratio. Hence, traders must conduct their due diligence and perhaps even consult financial advisors before employing it in their trading portfolio.
Please test in a demo account first for at least a week. Also, please familiarize yourself with and understand how US30 Scalping Robot works, then only use it in a real account.

Recommendations for US30 Scalping EA
Minimum account balance of 100$.
It's designed and trained to work on US30/Dow30/DJI [US Wall Street 30 index/Dow Jones Industrial Average]. (Work on any pair.)
Work Best M15 TimeFrame.
This US30 Scalping EA should work on VPS without interruption to reach stable results. So we recommend running this free forex EA on a reliable VPS (Reliable and Trusted FOREX VPS – FXVM)
The EA is NOT sensitive to spread and slippage. But We advise using a good ECN broker (Find the Perfect Broker For You Here)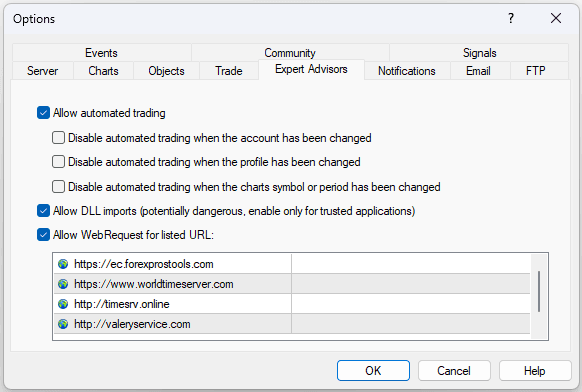 Open Tools –> Options –> Expert Advisors. Check the option "Allow WebRequests for listed URL" Add the following: "https://gmt-offset.online" and press "OK." The EA takes news from the specified websites.
How To Install

Show News Panel – Show the News panel.
Use News Filter – Use the News filter.
Trade Direction- "ANY/BUY/SELL" choosing the direction of trading
Lot Type: Fixed/Auto – lot calculation parameter
Fixed lot (constant) – fixed (constant) lot size
Profit/Risk Ratio – The automatic lot size is determined based on the Profit/Risk ratio.
Take Profit – profit level
Stop Loss – Stop loss level.
SmartOrders – EA calculates the distance between orders automatically
Max orders at the same time – the maximum number of orders at one time
Pause after Stop Loss (FTMO) – If you need to comply with the terms and conditions of the PROP FIRM or FTMO, set the Risk value =5% and Pause after SL=true.
News Filter – News Filter parameters
Day settings – Time and date Filter parameters
Panel settings – panel parameters
Pause trading on Xmas holiday – When this function is activated, MT4 Scalper stops trading during the New Year holidays, when spread expansion and low volatility are possible (from December 23 to January 7)

Conclusion of this MT4 Scalper
The US30 MT4 Scalper offers a sophisticated yet user-friendly approach to trading the Wall Street 30 index. With its robust algorithm, focus on risk management and operational simplicity, it serves as a valuable asset for both novice and experienced traders in the scalping community.