DJ Market Pro is a powerful NON-Repainting Gold Indicator designed to cater to the needs of all forex traders, regardless of their trading styles or broker preferences. Here's why DJ Market Pro is the ultimate game-changer in forex trading. It is a trading system that can analyze market movements technically with very high accuracy. This system is simple and easy to use and understand. It can increase your trading success rate and maximum profit if used properly.
The DJ Market Pro System has been impeccably programmed. It comes with an ON-SCREEN Panel that tells you to Buy/Sell and various information that you need for trading. It will not overlap the candlesticks, so it will always be crystal clear for you to read.
Features of Market Pro Indicator
User-Friendly Interface
DJ Market Pro boasts a user-friendly interface that makes navigating and understanding the indicators a breeze. Blue arrows indicate a "BUY" signal, while red arrows signify a "SELL" signal, ensuring that even novice traders can easily interpret the data and make informed decisions.
Adaptable to Multiple Trading Styles
Whether you're a short-term trader, a long-term investor, or a scalper, DJ Market Pro has you covered. Its adaptability to various trading styles means that every trader can benefit from its top-notch support and features, making the system a one-stop shop for all your forex trading needs.
Consistent Profits and Growth
DJ Market Pro's products have a proven track record of generating consistent profits, ensuring that your finances keep growing steadily over time. Its reliable performance makes it an essential tool for traders seeking to maximize their returns on investment.
Discipline in Trading
One of the key factors in successful forex trading is discipline. DJ Market Pro promotes a disciplined trading style by providing precise stop-loss levels for each trade, which helps secure your account and minimize risks.
Telegram, E-mail and Mobile notification
You can set the DJ Market Pro Indicator to send you a signal alert via email, SMS, Telegram, or platform pop-ups. This is helpful as it means you do not need to stare at the charts all day, waiting for signals to appear, and you can monitor multiple charts simultaneously.
This Market Pro Indicator System is entirely manual. The indicators produce the signals, but any decisions to enter the market and set protection or profitable exit stops will depend on the trader. Therefore, the trader must be familiar with the principles of risk and reward and use initial support and resistance areas to set entries and exits.
Gold Indicator can give you trading signals you can take as they are or add your additional chart analysis to filter the signals further, which is recommended. While traders of all experience levels can use this system, practicing trading on an MT4 demo account can be beneficial until you become consistent and confident enough to go live.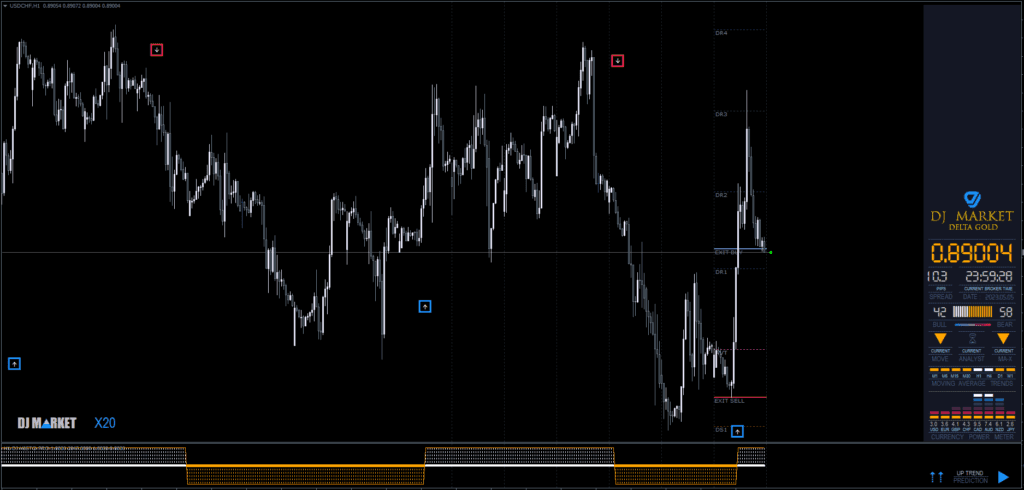 DJ Market Pro Indicator System can be used on any Forex currency pair and other assets such as stocks, commodities, cryptos, precious metals, oil, gas, etc. You can also use it on any time frame that suits you best, from the 1-minute through to the 1-month charts.
Indicators Used in DJ Market Pro System
1. DJPVT
Explanation Pivot Point
Pivot PointsIndicator is a simple pivot indicator that gives basic information such as Daily Pivot Points, Support 1, Support 2, Support 3, Resistance 1, Resistance 2, and Resistance 3.

The advantages of pivot points compared to other Support & Resistance methods, namely, every trader worldwide uses the same formula to calculate pivots. Hence, they are the most frequent market psychology level traders use to make decisions.
The basic principles of Pivot are:
Usually, when the price is opened above the pivot, psychologically, the price will go up (although not always) and vice versa.
Prices tend to try to break pivot, support & resistance levels.
If the momentum is strong, the price will break the pivot towards support or resistance, but if the momentum is weak, the price will reverse direction.
If the price does not touch the pivot, it usually tends to move away from the pivot.
Explanation of Range Daily

Range Daily Is the Range of High and Low Movement to determine the exit level Maximum trades, including Taking Profit and Stop trades in one day; this level will change daily. In addition, this indicator is also helpful so that we don't over-trade.
2. DJX20 Indicator
indicator in the form of points/arrows can be used to determine the trend that will take place. This indicator does not repaint. DJ X20 issues an alert when a trend / new signal changes.

3. DJCSM EVO 5

DJ CSM provides visual information on the current trend by analyzing more than five indicators on the chart. You can adjust the settings of all the indicators in the input parameters. DJ CSM displays the following information in the lower right corner of the chart:
Forex Currency Strength Meter is a type of Forex indicator that measures the index of one currency's strength against another. With this indicator, you don't need to open multiple charts at once to perform trend analysis (correlation between currencies)
Moving Average Trends is an indicator that displays the average value of price data in periods M1, M5, M30, H1, H4, D1, and W1. – MACD is a technical indicator that can help you identify changes in direction.
MA-X indicator based on crossovers 5 SMA periods (periods can be changed).
Buyer & Seller Volume displays the average volume of buyers and sellers, helping you see the strength of buyers and sellers.
Spread This indicator can be relied upon in knowing the spread changes. For those of you who need information about spreads, changing spreads, or periodic changes, this indicator is for you. Understanding the spread is an essential factor before you open a position. Because when the spread is widened or suddenly, the open time immediately floats 15 points or 30 points, of course.
4. DJ PROJI 2 MOD (DJ HISTO)

DJ ROCK appears in the sub-window Providing Trend Information as a Histogram.


Download a Collection of Indicators, Courses, and EA for FREE
Trading rules for this Gold Indicator
Remember to tighten your Stop Losses around High Impact News Releases or avoid trading at least 15 minutes before and after these events when using this X20 Indicator Indicator.
As always, to achieve good results, remember about proper money management. To be a profitable trader, you must master discipline, emotions, and psychology. It is crucial to know when and when not to trade. Avoid trading during unfavorable times and market conditions like low volume/volatility, beyond major sessions, exotic currency pairs, wider spread, etc.
Buy Entry
DJX20 BLUE UP Arrow appears.
DJ HISTO histogram is colored

BLUE

/WHITE.
Buyers are bigger than sellers. (BULL > BEAR)
Moving average trend M30, H1, and H4 are colored

BLUE

/WHITE.
Sell Entry
DJX20 RED DOWN Arrow appears.
DJ HISTO histogram is colored RED/

GOLD

.
Sellers are bigger than buyers. (BULL < BEAR)
Moving average trend M30, H1, and H4 are colored

RED

/

GOLD

.
Trade Exist
Any positions with this Gold Indicator can be liquidated using a fixed profit target. Alternatively, the profit target should be set using previous support, resistance, or high-low level as a reference point. You may also exit the trade manually if the system conditions reverse.
It is recommended to use a stop loss. Set SL below the entry price using previous support/resistance as a reference point Or on the previous high/low swing. Using fixed stop loss settings without any reference points is not advocated.

Install Fonts if the ON-SCREEN Panel in your MT4 doesn't show up as in screenshots.
Conclusion
DJ Market Pro is a revolutionary forex trading system that supports all brokers, provides a user-friendly interface, caters to multiple trading styles, and helps traders achieve consistent profits. With its disciplined approach, advanced features, and compatibility with various platforms, Gold Indicator is undoubtedly the go-to solution for traders looking to excel in the competitive world of forex trading.