You may already know what a Supertrend forex indicator is, how it works, and some of its weaknesses. Supertrend Multi-Timeframe (MTF) forex indicator for MT4 aims to improve on the Supertrend Line indicator by considering the trend in multiple timeframes.
What Is Supertrend Multi-Timeframe Indicator for MT4?
You should already know what the Supertrend Line forex indicator for MetaTrader is. However, if you don't know, the Supertrend indicator is a forex indicator showing a pair's primary trend. The trend considers volatility in the form of ATR and price.
One of the disadvantages of the Supertrend indicator is that it can provide false entry signals. This is especially true when the forex market is ranging.
The Supertrend Multi-Timeframe forex indicator for MT4 tries to minimize such false signals. It is a combination of Supertrend forex indicators in different mt4 timeframes.
Thanks to this combination, you can see indicator Supertrend status across all the selected mt4 timeframes in a single place.
Why Use Supertrend Multi-Timeframe Forex Indicator for MetaTrader?
Checking the chart trend on only one chart can lead to a limited understanding of the overall trend.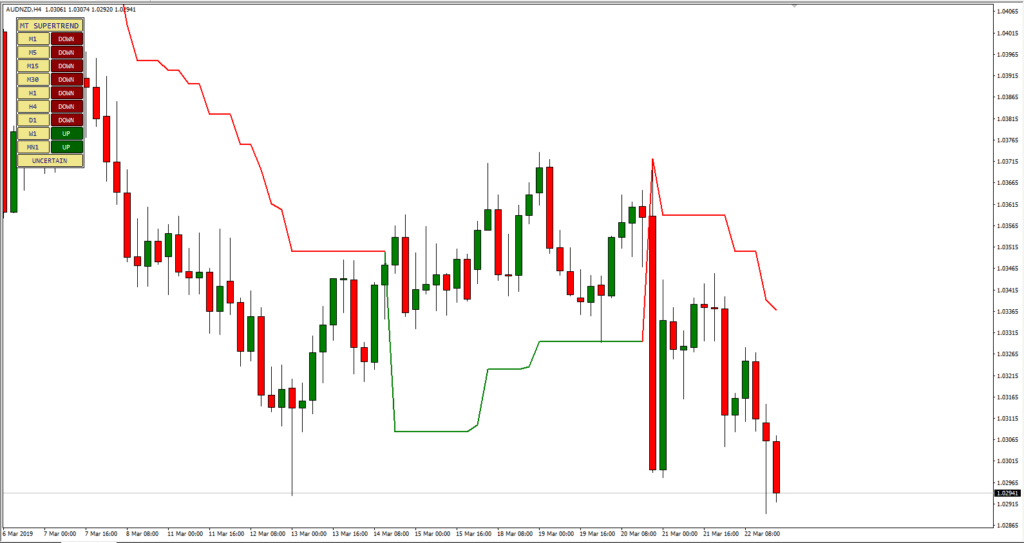 For example, if you check the Supertrend values of the EUR/USD currency pair on an M30 chart, it might signal an uptrend.
However, once you check the Supertrend of the same pair on an H4 chart, it could be in a significant downtrend.
Watching Supertrend indicators for several timeframes can provide a strategic overview. It can give you a good idea of the overall market trend.
Supertrend Multi-Timeframe (MTF) indicator can help you make better decisions as trending conditions for each timeframe are visualized in an easy-to-read table.
The Supertrend Multi-Timeframe indicator is straightforward to use and read and has only a few parameters to set. Below are listed some of its features.
Selection of Mt4Timeframes
In the Supertrend Multi-Timeframe indicator, you can select which timeframes to consider — you can enable and disable them to see the ones of interest.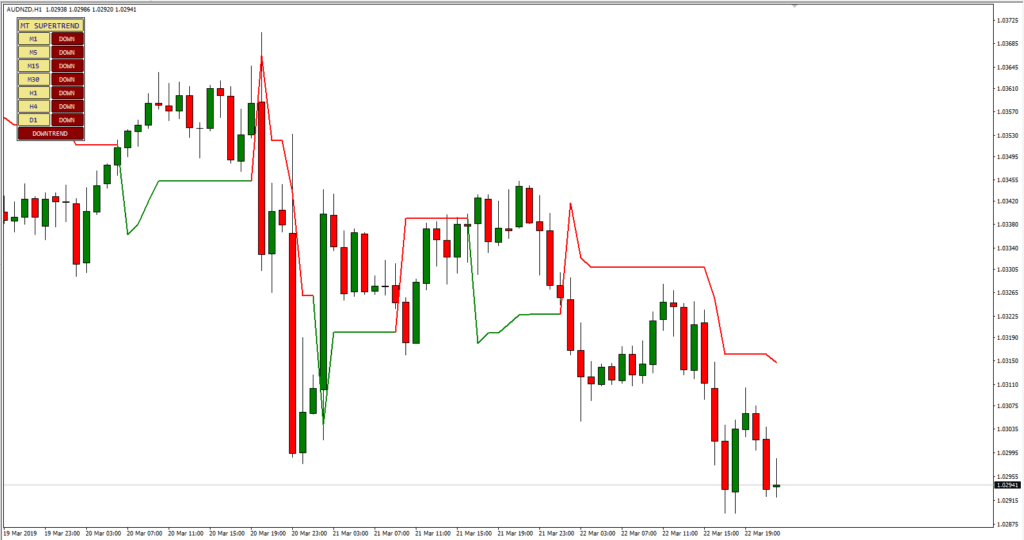 Selection of Sensitivity
You can set the multiplier for the Supertrend line to make it more or less sensitive to price volatility.
Notification Alerts
You can set setting options to be notified when a chart trending condition is met.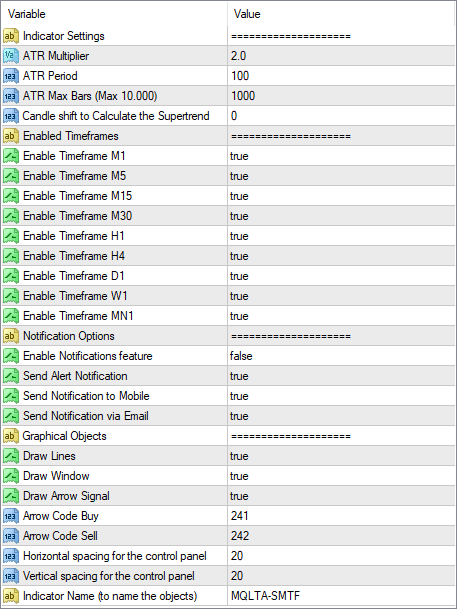 Download Supertrend Multi-Timeframe for MetaTrader
How to Download MT4 Supertrend Multi-Timeframe Indicator?
You can download the free MT4 Supertrend Multi-Timeframe indicator with the link below and install it by following the instructions.
The installation is straightforward to perform, and so is the use.
Once you run the indicator, you can set Supertrend parameters, select timeframes, and configure alerts via its input parameters.
➥ Download MQLTA MT4 Supertrend Multi-Timeframe
MT4 Indicator Installation Instructions
To install the MT4 Supertrend Multi-Timeframe forex indicator, please follow the instructions below:
Download the forex indicator archive file.
Open the MetaTrader 4 main data folder (via File→Open Data Folder).
Open the MQL4 Folder.
Copy all the given folders from the archive directly to the data MQL4 folder.
Restart MetaTrader 4 or refresh the indicators list by right-clicking the Navigator subwindow of the platform and choosing Refresh.
Please visit this page for more detailed instructions on performing the installation and a tutorial video.
If you like trend-following strategies, then the Supertrend Multi-Timeframe indicator for MT4 can be handy. Try using it and decide if integrating it into your strategy is worthwhile.
You can open a real forex trading account with any MT4 Forex brokers to freely use the indicator for forex MetaTrader 4 presented here.


Discussion
Do you have any more suggestions or questions regarding this indicator? You can always discuss Supertrend Multi-Timeframe with the other FX traders and MQL programmers on the indicators forums.