The central pivot range CPR forex indicator provides the best market analysis of daily price levels. All forex traders use the daily price levels as forex support and resistance levels. Because by using these levels, traders can analyze the zones where the chart price makes decisive moves. 
Working of CPR Indicator :
The CPR indicator works similarly to the pivot point forex indicator. Still, it also has a few additional features where it uses the bottom, top, and central pivot points to define levels at which the price makes decisive moves. Another feature shows considerable chart support and resistance zones based on the forex pivot points.  
This forex indicator is not a signal-rendering forex indicator; instead, it provides you with the details that you can use in your technical forex analysis. These are the areas where you can find forex supply and demand zones. 

Forex Indicator Settings:

Trading Guide For CPR Forex Indicator:
As stated above, the forex indicator itself does not provide signals. Instead, it shows the chart of critical zones which can use in the trading analysis. The levels offered by the forex indicator are as follows.
Central Pivot Point(PV)
Top Central Pivot Point(TC)
Bottom Central Pivot Point(BC)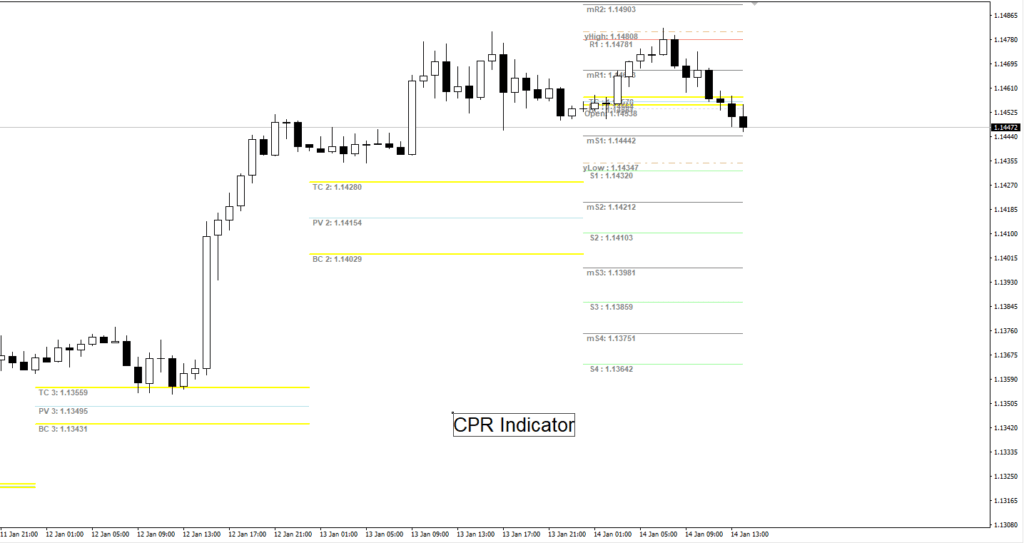 Central Pivot Point(PV):
This level can determine if the forex market is going bullish or bearish. If the price moves below the central pivot point, bearish sentiment exists in the market. If the chart price moves above the central pivot point, that represents the bullish sentiment in the market.
See also FX Pips Predator MT4 Forex Indicator FREE Download
Top and Bottom Pivot Point(TC) & (BC):
These chart pivot levels are used to determine the direction of the forex market. For example, if the chart price moves above the top central pivot, the market is bullish, and there is an excellent opportunity for a long position. Similarly, if the chart price moves below the Bottom central pivot line, the forex market is in the bearish direction. And this forex indicates there is an excellent opportunity to take a short-entry position.


Download a Collection of Indicators, Courses, and EA for FREE
Final Comments:
The CPR indicator can save you plenty of time and gives valuable information like chart levels that can be used to place trades. New forex traders who need help determining the critical levels in the forex market can use the CPR forex indicator to help identify the chart zones where they can be potentially critical.
CPR Forex Indicator For MT4 Free Download